Friends, we are starting a new series, 'MPPSC Topper's Interview'. In this you will read about MPPSC toppers, their strategy, planning  and various aspects of exam from their angle. We will try to give you a short overview of their preparation journey. This will help you to understand this exam more clearly.
MPPSC Topper's Interview : Episode 1 
In this first episode, we have  Miss Komal Upadhyay, who is selected as Child Development Project Officer (बाल विकास परियोजना अधिकारी) in MPPSC 2017. We will also check her mark-sheet. So you get an Idea that how much you have you secure, to get this post.
So, Let's Start !
Staying focused, consistent hard work and firm belief in Lord are the keys to my success.
Ms. Komal Upadhyay
Q : Achieving top slot in the CS Examination is no small feat; accept our heartiest congratulations on your splendid success.
Ms. Komal : Thank you so much.
Q : Were you confident of your success in this examination and how did you react to this news?
Ms. Komal : My Main Examination and Interview had gone well. Therefore, I was hopeful of making it to the merit list. I was happy to see the results.
Q : What preference in services have you opted for and any particular reason for that priority?
Ms. Komal : I opted for administrative services because of its diversity of works and it direct impact on people.
Q : In how many attempts have you achieved this success?
Ms. Komal : From May 2015 to May 2016 MPPSC conducted three civil services examinations of year 2014, 2015 and 2016 in six month intervals. I was neither eligible for these exams nor prepared but I appeared in two of the prelims to get an idea about the examination. Then after a planned preparation of six months after graduation I appeared in MPPSC 2017 and wrote Mains for the first time and achieved this slot.
Q : You must have read lAS toppers' interviews in newspapers/magazines; what inspired you the most ? Any particular success story which influenced your journey to this result?
Ms. Komal : Joining civil services has been my childhood dream. So I have read almost all IAS toppers' interviews I came across. I admired them but Cannot recall anyone specific who influenced me. But reading toppers' interview had helped me to plan and prepare a strategy.
Q : What was your approach towards Paper I (General Studies) and Paper II (Aptitude Test) during Prelims preparation ? How long time and how much effort did you divide for each?
Ms. Komal : Paper I of MPPSC Prelim contains more of trivial GK questions which test your range and depth of knowledge. It does not test more of your analytical skills as in UPSC prelims. So for this, first you need to understand patterns of questions being asked and then you should follow the pattern than studying random GK stuff. I didn't prepare much for Paper II because of its qualifying nature. I practised some aptitude question papers of various exams from Q. monthly issues.
Q : The first step is the most difficult; how to prepare ? Which optional subjects to pick ? What to read ? How much to read ? Many such questions Come to your mind when you really get serious about Civil Services Examination ? From where did you get the right advice?
Ms. Komal : I did extensive research on the exam pattern, syllabus, and previous year question papers and made my strategy accordingly. I took the book list from online sources and began to read them according to my study plan.
Q : You achieved the desired success in this attempt; how do you visualise your previous attempts?
Ms. Komal : My previous attempts were based more upon knowing the exam than analysing my performance. One gets a better idea of exam by attempting it in exam hall than by just browsing the question paper on laptop.
Q : What shift did you adopt in your strategy for MAINS (Written)?
Ms. Komal : After prelims, I shifted my strategy towards improving my handwriting, writing speed and producing relevant informative answers in 100 and 300 words with impressive presentation using flowcharts, graphs, diagrams etc.
---
---
Q : Was there any special effort for effective preparation for ESSAY Paper? Which topic did you pick up this time and why did you choose this particular topic?
Ms. Komal : In MPPSC Essay Paper, one has to write three essays in Hindi. Being an English Medium student, I faced problem of having limited Hindi vocabulary in writing essay and for that I read Hindi newspapers after prelims. I chose 'Human values and role of literature' as my essay topic because being a avid reader I could use references of various books and authors which helped in inculcating human values.
Q : 'Time Management' is a key factor while making preparations as well as in writing examination papers, be it Prelims or Main Examination. How did you manage things?
Ms. Komal : Time management is crucial. One should set deadlines while preparing and should attempt to write answers in time-frame.
---
Educational Qualifications –
10th – 2010-11, CBSE, Mansarovar Public School, Bhopal, 10 CGPA
12th – 2012-13 PCM, CBSE, Mansarovar Public School, Bhopal, (80.4%)
B.A. – 2013-16 Economics (Hons.) IEHE, Bhopal, 71%
---
Q : How did you prepare yourself for Interview ? When and which board did you face? How did your interview go on, how long time did it last and what were the questions asked during the Interview ?
Ms. Komal : I watched some mock interviews online. I did not take any mock interviews. I solely focused on being happy and confident on my interview day and prepared my bio-data well. This strategy worked and I got 155 out of 175 marks in interview which were highest in the list. I faced Madam Seema Sharma Board which was very cordial and cooperative. My interview lasted for 25-30 minutes. Questions were mostly related to my graduation subject, my interests, job preference; some situation based questions were also asked.
Q : Were you preparing for other career opportunities as well while preparing for your ultimate goal i.e., Career in Civil Services ?
Ms. Komal : No, my focus was only on this.
Q : While the changing economic environment offers immense lucrative career opportunities in various sectors, still what kept you motivated towards Civil Services ?
Ms. Komal : This job offers social prestige, satisfaction and financial security which no other job can offer.
Q : In your opinion at which Educational Level should one start preparing for Civil Services and what should be the minimum period of time required to prepare for Civil Services Examinations?
Ms. Komal : One should get an idea about the exam during one's graduation years and after graduation one year planned preparation is required.
---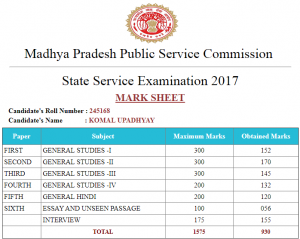 ---
Q : What is your opinion regarding the general view that Science subjects have better chance to score than Humanities ?
Ms. Komal : There is equal weightage to all subjects and every-one has an equal level playing field. It is the level of targeted study and preparation that matters for a good result.
Q : What is the importance of medium of examination for exams like CSE?
Ms. Komal : One should give the exam in that medium he/she is comfortable with and has study material. In MPPSC it is hard to find good study material in English.
Q : Can you recall the exact moment when you realised the importance of Civil Services? 
Ms. Komal : I cannot recall exactly. But from teenage I wanted to contribute to the society and I found civil services as an effective platform where you can serve large number of people with a proper work-life balance.

Q : Finally, at what point of time did you make up your mind to make career in 'Civil Services'?
Ms. Komal : At high school. In 11th I subscribed to PD magazine to enhance my knowledge base. I also did my graduation in accordance with civil services preparation.
---
Personal Qualities –
Favourite Person : My mother.
Strong Point : I am Passionate about things I admire.
Weak Point : I don't take physical fitness seriously.
Hobbies : Reading novels, making paintings (folk, madhubani, warli, etc.), writing.
---
Q : Did you keep in mind sometime-frame for the examination preparation and number of attempts?
Ms. Komal : Yes, I had given this exam a full year of preparation and had thought to give at least two attempts.
Q : Was CSE your planned decision or your parents' wish? 
Ms. Komal : It has been my independent decision but my parents always supported this.
Q : Does the educational, financial and demographic status of the family of an aspirant have any impact on the preparation?
Ms. Komal : These factors may impact one's level of preparation. Those with adverse circumstances have to put more effort to prepare than those with favourable ones. But these factors cannot alter the final result. They can make your journey difficult but cannot stop you from being there.

Q : In your opinion what role do the Competition Magazines play when you are preparing for an examination like Civil Services?
Ms. Komal : Competition magazines are really helpful as they direct you towards smart studies and prevent you from reading unnecessary stuff.
Interview Credit : PD Magazine
Hope this writing will help you during your preparation journey. We will continue to post Interview like this. If you want to give any feedback, please fill this Form.
Will soon meet you with a new topper. Till then, Keep Studying hard !
Disclaimer : We have posted this writing with duly credit. If you have any problem with content, can always reach us at mppscclub@gmail.com. This post is only for knowledge purpose.The Source of the marksheet is the Official MPPSC website. We are not responsible for any mistake. We are trying to provide you the most authenticate information related to MPPSC Exam.