Last Updated on April 25, 2023
Hello Friends, here we will provide the information regarding Madhya Pradesh Forest Service Examination. In this, you will get Latest MPPSC Forest Service Exam Scheme, Syllabus and Book-list forMPPSC Forest Services Exam 2020.
Just Like State Civil Service Exam, this State Forest Service Exam also has 3 stages. The 3 stages are ;
Preliminary Examination
Mains Examination
Interview
Prelims Examination
The prelims exam of the State Forest Service exam is the same as the State Civil Service exam. So, it consists of two papers ;
Both papers are of Objective Type consisting of 100 MCQs each of 2 Marks.
The Selection list for Forest Mains Exam is prepared on the basis of cumulative scores in both papers.
---
Mains Examination
After qualifying Prelims exam, you have to appear for the MPPSC State Forest Services (SFS) Mains exam.
In 2020, Commission changed the syllabus and pattern of the MPPSC Forest Mains Exam. Now Forest Mains Exam is conducted online, having only one paper. Important points regarding the SFS Mains exam are,
The paper of Mains examination is of Objective Type.
Mains examination will be conducted Online.
There will be only 1 paper having 2 sections.
There is a Negative marking in the Mains Exam. For Correct Answer = 3 Marks and for Wrong Answer = -1 Mark.
Total Question – 150
Total Time – 3 Hours
In each section, aspirants have to secure at least 40% marks.
You can also refer to the official information provided by MPPSC.
---
Interview
After qualifying for the Mains Examination, candidates are called for a Personal Interview round.
The Interview will be of 50 Marks. The final merit list will be prepared on the basis of marks obtained in the Mains Exam+Interview Round.
---
MPPSC Forest Service Eligibility Criteria
Candidates need to fulfil the set of eligibility criteria laid down by the Madhya Pradesh Public Service Commission for recruitment.
Below you can check Education Qualifications;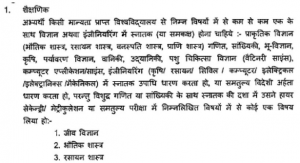 Body Measurement Required for the post ;
Below body, measurements are required to clear the Physical and Medical Tests for MPPSC Forest Service Exam.
---
MPPSC State Forest Sevices Mains Syllabus
Here you can check the syllabus for the Mains exam of the State Forest Services.
Download MPPSC State Forest Sevices Mains Exam Syllabus
---
MPPSC Forest Service Mains Exam Booklist
Here you can check the booklist for the MPPSC Forest Mains Exam.
MP GK – Any Standard & Updated book like Punekar, TMH, तथ्य बाण द ग्रंथम
Current Affairs – Speedy or Any Yearly Compilation
Computer – Pariksha Manthan
Physics – NCERT Class 10,12, Yugbodh Class 12, MP Board-10th, Parikshavani
Chemistry – NCERT Class 10,12, MP Board-10th, Parikshavani
Biology – NCERT Class 10,12, MP Board-10th, Parikshavani
or for General Science – Lucent General Science (Either Read NECRTs or Lucent)
Environment – Drishti or Parikshavani, Ghatnachakra, Shankar IAS for English
Maths & Reasoning – RS Agarwal or Class 10th Shivlal Maths.
Forestry – Ashok Kumar or Mohit Husain (Choose Any One)
Forestry Objective (For Practice) – Mohit Husain or Uthappa A R or Parthiban or P Kumar (Choose Any One)
Inputs in this booklist are provided by Mr Rahul Sharma, who cleared this exam in 2018. You can watch his Instagram Live session for more details on our YouTube Channel.
---
Previous Year Papers
Here we are providing you MPPSC Forest Previous Year Papers and other important information.
2020

MPPSC Forest Mains Paper
2019
MPPSC Forest Mains Paper 1
MPPSC Forest Mains Paper 2
Answer Key
2018
General Studies Paper 1
General Science Paper 2
2014
General Studies Paper
Environment Paper
Forestry Paper
If you have any queries regarding MPPSC Forest Services Mains Examination, you can always content us on Telegram Channel.
Disclaimer: While creating this paper/content, the MPPSC Club has kept complete vigilance. But even if you get a human error, tell it in the comments box along with facts. Our team will try to rectify it as soon as possible. If you have any problem with content, you can always contact us at mppscclub@gmail.com
Tags – mppsc forest syllabus, mppsc forest old papers, mppsc forest services syllabus, mppsc forest exam, mppsc forest service, mppsc forest service syllabus, mppsc forest mains, mppsc forest exam booklist, mppsc forest ranger, mppsc forest service papers, mppsc forest booklist, mppsc forest mains books