Last Updated on August 30, 2022
Finally, Commission has announced the MPPSC 2018 notification for 298 seats (Final Number). Many aspirants are waiting for this, after loosing their hopes in Patwari Exam 😉
This year number of seats is very less as compared to previous years. But there is a high chance that the number of seats will increase till the prelims exam date. We will notify If there will be any change in the notification. In this blog you are going to see all the details of MPPSC 2018 Notification.
So, First start with the some Important Dates related to MPPSC 2018.
| | |
| --- | --- |
| Events | Dates (Tentative) |
| MPPSC 2018  Notification Release Date (Advertisement) | 12th December 2017 |
| Starting Date to Fill MPPSC Application Form 2018 | 18th December 2017 |
| Last Date to Apply Online for MPPSC Recruitment 2018 | 8th January 2018 |
| Application Form Edit | 10th January 2018 |
| MPPSC 2018 State Service Examination Date | 18th February 2018 |
| MPPSC 2018 Result Declaration Date | Update Soon |
So, you can fill the form till 8th January 2018. Now, we will see some Important links.
Through below link, you can download official MPPSC 2018 Notification released by Commission. You should read the notification twice or thrice. So, there will be less chances of error while filling the form
Now after reading the notification, If you want to apply, you can go by below link. If you have any query/doubt, you can comment below or contact the Official MPOnline Customer Care at 0755-4019400.
Now, to start preparing for this exam, you need syllabus. So, you can download the Prelims syllabus from here.  We are also sharing the book list by MPPSC Aspirants, who have cleared the MPPSC exam last year.
So, here is the first book list by Miss Nisha Bangre (Rank 19, Dy. Collector-2017). She has also cleared the MPPSC-2016 in which she got the DSP Rank. She has completed her Engineering from SATI Vidisha. Before preparing for MPPSC, she is doing Job in Flour Daniel, Gurgaon on the package of 7+ LPA. She is really a Multi-talented, all-rounder person.
So, here is the book-list for English Medium aspirants.
---
And here is for Hindi Medium aspirants.
We have also a one more book list by Mr. Saurabh Mishra (Rank -1, Dy. Collector-2016).  You can have a look on this also.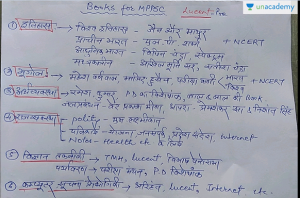 Credit of these Pics : Unacademy
 You can download previous year papers of Prelims exam from this page. On this you will find the last 5 year prelims papers.
If you want to solve these papers, you can visit our Practice page. There you solve previous year questions papers online through your mobile or desktop.
Wishing you All the Best for MPPSc 2018 exam. If you have any query, you can always comment below or reach us by mppscclub@gmail.com or by Facebook.
Disclaimer : The Source of this Information is the Official MPPSC website. We are not responsible for any mistake. We are trying to provide you the most authentic information related to MPPSC Exam. If you have any problem with content, you can always contact us at mppscclub@gmail.com